How Hepatica nobilis Marion became ours....
How Hepatica nobilis Marion became ours.... I live in a fairly flat area but 25 kilometres from where I live there is a forested hilly area which once was created by volcanic eruption. Here you can really find Hepatica-Paradise as this plant grows there numbering in excess of one hundred thousand. In this wood I walk about every year in April in the hope of finding something extraordinary, many years to no avail. All I could do was to enjoy the beauty of the Hepaticas in this habitat.
In 2002 I was in luck however. In a depression I discovered a flowering Hepatica that from the first glance appeared different from the rest. I dug it out of the soil and looked it over thoroughly at home. At the time the following could be stated: When judging the bundle the plant appeared to be around six years old as they may flower in their second year. This semiplena Hepatica plant did not have any of the common characteristics of the species in the year of its discovery. The buds opened only partly, several petals were wrinkled and the number of petals varied in some flowers. The inner petals varied accordingly. Some leaves that developed after replanting also showed signs of deformation. This semiplena appeared to me to be shaped in the wrong way.
Everything changed in 2003 however. The leaves of the plant are healthy, green and shaped in the correct way. The medium blue flowers were standing upright on 10 centimetre long stems. The flowers consist of basically six-seven roundly shaped petals. Within the flower there are thinner and shorter transformed petals which cover each other in two-three layers. In the first layer these tiny tepals bend backwards (later they simply stretch out). The inner layers of petals get a button-like appearance and may resemble H. transilvanica Elison Spence. (Photo)
At the edge of the inner petals there are a few anthers. Whether the pollen is fertile or not is something I have not looked into. Flowering lasts for four weeks. This plant is an agile grower and the total impression is very positive. Even so, in my opinion this clone should be cultivated to achieve regularly shaped flowers. This means that during its cultivation, divisions that do not meet with our requirements regarding the shape of the flower should be sidelined (if such varieties can be found at all).
In 2005 I removed one division and in the following year this new plant flowered with blooms identical to its mother plant. Further growth continued without any problems. For this reason the mother plant was once more divided into five divisions in 2005. Mr. J. Peters received two out of these five plants and the other three are in the care of Botanical Gardens in Germany for further propagation.
One might expect that this plant that I named after a beautiful girl, Marion, will get a good future in cultivation. Mr. J. Peters has put H. nobilis Marion with photography in his book HEPATICA Leberblümchen eine Leidenschaft among merited full flowering Hepaticas of beauty. The next division will probably take place in autumn 2009 or 2010 and one division minimum will certainly go to Scandinavia this time.
Ladislav
written in January 2009 as article for the magazin Skalničky. Translation into  English by Einar Myrholt .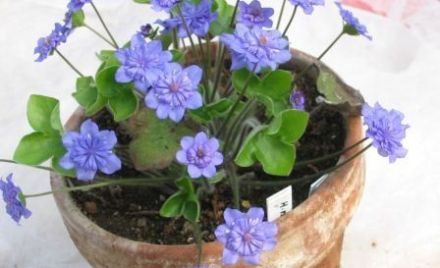 H.n.Marion